Free time tracking tool for developers
Clear out your distractions & code programs while we track the time you spend at work. Avoid overtime & plan your workflow efficiently.
Sign up for free
How Tack works for developers
We're the original time tracking collaborator for creatives.
01 - CREATE
Add your clients, projects details & teammates.
Let's get started with tracking time for your agency. First, add your clients, the projects you're working on, the tasks lying ahead & your employees working in your business.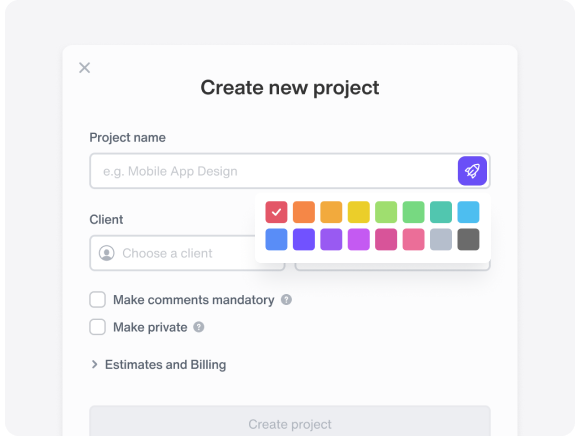 02 - CAPTURE
Track employee hours on client projects.
Your employees can input the time they've spent on each task everyday, share descriptions, images & URLs of their daily completed task & you can view them as well.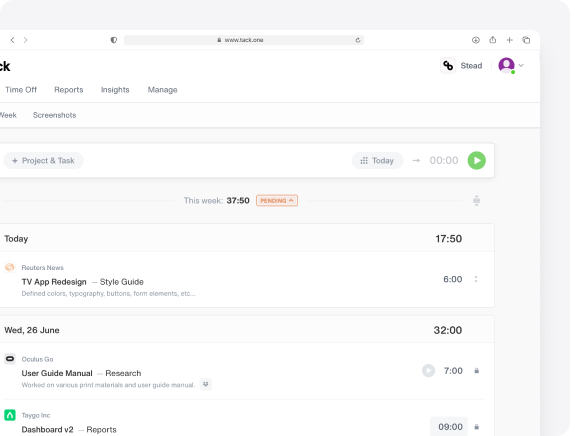 03 - LIMIT
Set project expenses to avoid going overboard.
Set client budget for specific projects & receive automatic alerts when your expenses & time starts over boarding. View hours spent, detailed timesheets & more inside our captivating interface.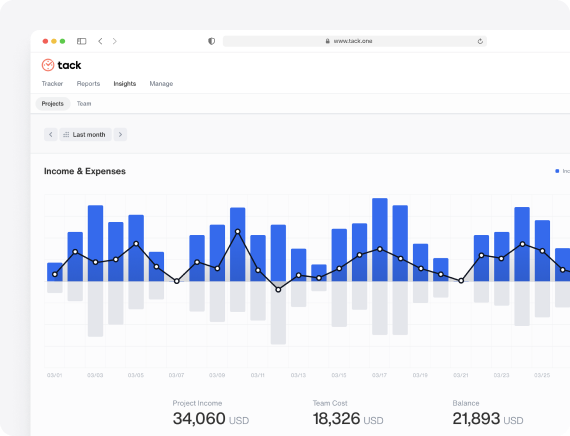 04 - ANALYZE
View, export & share detailed reports.
View in-depth reports that include charts & data and carefully explore where resources have been spent on client projects. View, export and share billable & non billable hours with clients & receive payments on time.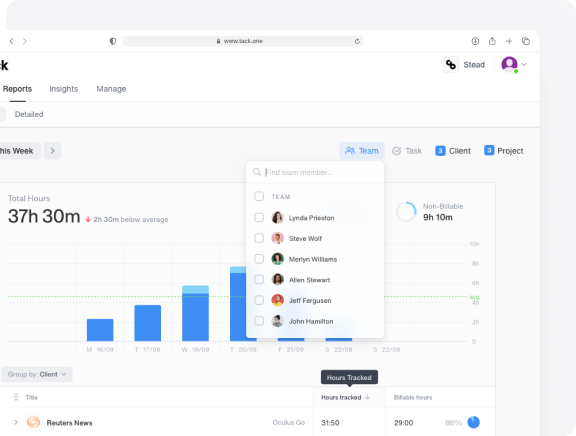 Why developer use Tack
Join a growing network of winning businesses that use Tack for seamless time management solutions.
Enjoyable interface
Tack's intuitive & easy to use interface makes it a favourite amongst creatives everywhere.
In-depth reporting
Build transparency & trust with clients using detailed profitability & expenses data reports.
Tons of features
Boost staff productivity with variety of cool features. View activity rates, completed work & more.
We're here to help you rise
Tack is proudly a fully remote company. We believe that a global team needs tons of features for their growing business.
Project management
Customize project details, view active projects your staff is working on & set automatic reminders.
Approve timesheets
Approve weekly timesheets. See what your staff has worked on in detail before sending payments.
Time-off
See when your employees are on leave with our time off feature. View billable hours right inside Tack.
Receive detailed reports
Review, export & share summary reports with your clients to improve trust & transparency.
Track revenue
Find out where your money is going & get reimbursed for extra time spent on client projects.
Integration
Connect your data across multiple platforms easily so that you don't change your workflow process.
Get started.
All new time tracking and reporting tool. Greater insight.
Sign up for free