Tack vs Clockify
Tack's easy to learn interface makes it the definite clockify alternative. Track goals, reduce procrastination & manage your team and projects effortlessly.
Sign up for free
How does Tack compare with Clockify?
Features
Price of a paid plan
$3.99
/user/month
$7.99
/user/month
Timer
Timesheet
Bulk edit
Tag
In-depth reports
Weekly report
Filters
Billable hours
Lock timesheet
Edit reports
Report summary
Share reports
Time rounding
Time audit
Unlimited projects & clients
Project dashboard
Project templates
Project estimate (in hrs)
Task assignees
Permissions
Required fields
Add time for others
Approval
Hourly rates
Control accounts
Screenshot capture
Budgeting for projects
Billable rates
Labor cost & profit
Favorites
Time off tracking
SSO
Desktop apps
Why are people switching to Tack?
Tack gives entrepreneurs the option to manage their business problems using an intuitive time tracking solution.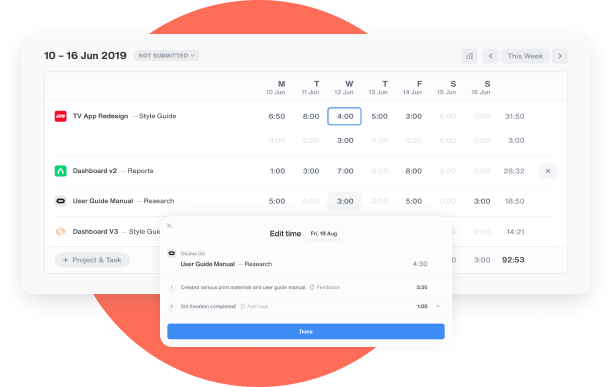 Get weekly timesheets & see what your team is upto
View summaries of what your team has been upto for the week. View project progress, control expenses & see if you're on pace with your target schedules.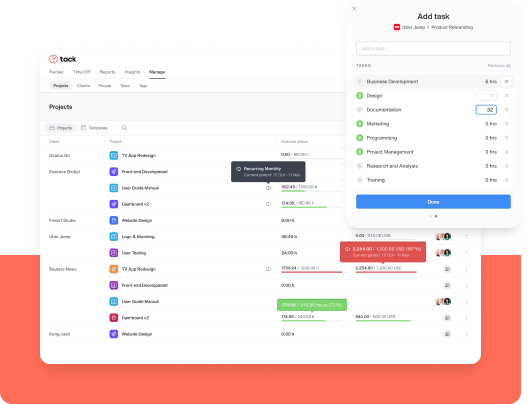 View, export & share in-depth reports with clients
Go through detailed reports of project & employee summaries. Share & export billable & non billable hours with clients to improve trust & build relationships.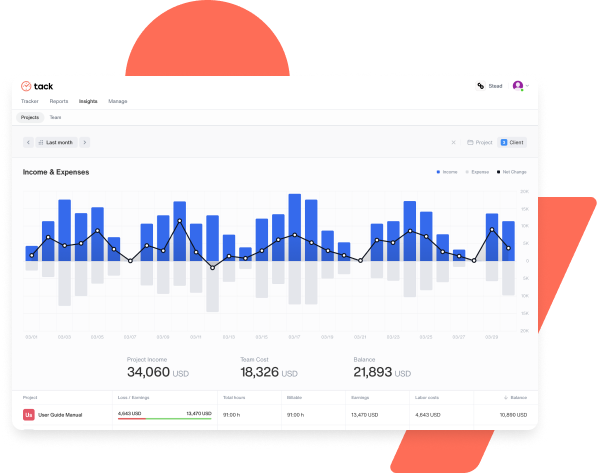 Track expenses & see where you're going overboard
Set estimates for projects & tasks and receive notifications when your expenses & time exceeds the set limit. View detailed metrics such as total time spent, project progress & time breakdown for each task.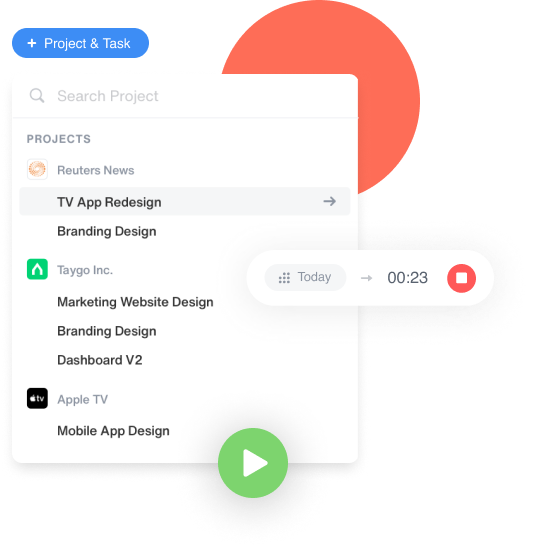 Create, customize & manage client projects with ease
Create new projects with customizable options pertaining to colors & icons of your choice. View active projects you're working on, teammates assigned to each task & progress of individual projects.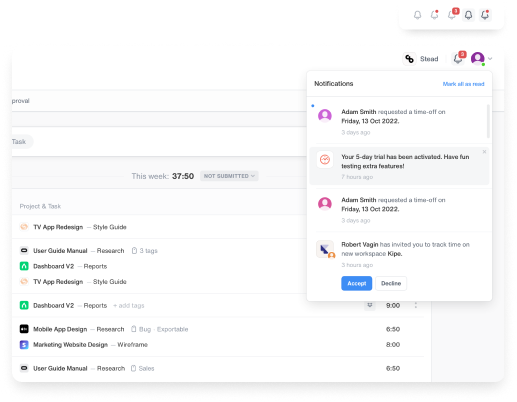 Seamless time tracking from anywhere in the world
Tack can help you track your team members no matter where their working from. Set automatic reminders, view employee summaries & get an idea on how productive they are everyday.
Get started.
All new time tracking and reporting tool. Greater insight.
Sign up for free